Welcome to the Hot Springs County, Wyoming County Road and Bridge Department
---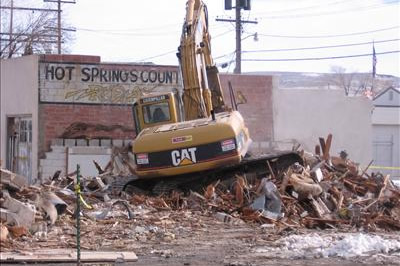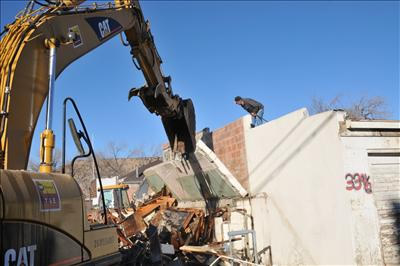 Independent Record Photos
So, your road & bridge crew is busy. We have 235 miles of County roads in Hot Springs County, and it is an ongoing job to maintain them.
---

We had outgrown our Road and Bridge Shop, and a new addition was added to the original building. The funding for the project came from a State Consensus grant. Watch how the work progressed on the addition in the photos below.
---
Work is completed on the East River Road.
The sharp incline on the east side of the road has been cut back to a more gentle slope. This will prevent rocks from dropping on the road`s surface. The material removed from the hill is being used to enhance the parking area of the Game and Fish Department`s fishing access point.
---
It`s been a busy season for the road and bridge crew.
The Grass Creek Road project is finished and will probably be stabilized with magnesium chloride next year. The plan is to stabilize a number of County roads that are impacted by industry with magnesium chloride including Grass Creek, Kirby Creek, Black Mountain and possibly Sand Draw roads. A new cattle guard has been installed in Hot Springs State Park. This was accomplished because of cooperation between the State of Wyoming and Hot Springs County.

Last winter, the Lake Creek Slough was drained after the water froze enough to allow heavy equipment on it. The old Oddfellows building was torn down by the Road and Bridge crew in preparation for construction of the new Government Annex/Public Health Building. The building was separated from the garage next to it by inches, but the crew managed to tear the rear wall down without harming the garage. Notice the historic sign painted on the adjacent garage. That was quite a surprise to everyone.
---

The three huge piles of cold asphalt mix are now down to one.
The asphalt was prepared in April 2009, and during the summer many roads in the County were overlaid with the material including Cottonwood Creek, 4-mile Road and Lane 7. The remaining pile will be used for repairs and overlays on more roads next Spring and Summer.