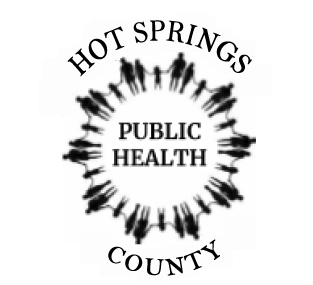 Incident Management Team Situation Report April 1, 2021 at 3:30pm

Reminder, Situation Reports will be posted on Tuesdays and Thursdays, unless urgent information becomes necessary.
COVID Downloads
---
---
03/16/21 -

You must be a resident of Hot Springs County, Wyoming AND 18 years of age or older to proceed.
---
To date in Hot Springs County:
Lab Confirmed Cases: 266
Active: 1
Current Probable: 0
Lab Confirmed -Recovered: 265
Probable Recovered: 93
Deaths: 3
---
LOCAL NEWS:
FREE MASKS will be available for individuals and families at THE PRINT ZONE at 541 Broadway in Thermopolis (beginning Friday Dec 11). BUSINESSES wishing masks for staff or customers please contact HSC Emergency Management at 307-864-4649 or email This email address is being protected from spambots. You need JavaScript enabled to view it.
REMINDER: Please submit any Covid-19 questions you may have to the HSC Covid-19 Q&A page by emailing them to : This email address is being protected from spambots. You need JavaScript enabled to view it.
FREE HOME TEST KITS ARE AVAILABLE TO WYOMING RESIDENTS
To take advantage of the free testing, visit https://www.vaulthealth.com/covid and order a collection kit. The test order requires that you upload a photo of the person to be tested. The $150 testing fee is waived for all kits shipped to a Wyoming address and all shipping is prepaid. The saliva is collected during a supervised, online telehealth visit with a Vault test supervisor, which requires an internet connection. Results are reported within 48 hours of when your sample arrives at the lab.
If you are interested in statewide hospital reports the COVID-19 Hospital Resources in Wyoming website may be of interest. The top graph demonstrates the spikes in Wyoming Coronavirus hospitalizations over the past few weeks. This represents ONLY patients who are too ill to stay home. This graph does not represent those who are recovering at home.

Hot Springs County Public Health wants to remind everyone the best way to prevent the flu is by getting a flu vaccine each year. We recommend that pretty much everyone over the age of six months should get a seasonal flu shot. Call 307-864-3311 to schedule your appointment. WE WILL EVEN COME OUT TO YOUR CAR!
---
Wyoming laboratory:
Lab confirmed cases to date: 47,735
Recovered: 46,723
Probable to date: 8,654
Recovered: 8,491
Deaths: 700
If you are having COVID-19 like symptoms and are uninsured, COVID-19 testing and the office visit costs will be covered under the Federal Cares Act.
Please call your healthcare provider before arriving at the clinic. According to the CDC a wide range of COVID-19 symptoms include: fever, cough, shortness of breath, nausea, vomiting, diarrhea, chills, repeated shaking with chills, muscle pain, headache, sore throat, new loss of taste or smell. These symptoms range from mild symptoms to severe illness. These symptoms may appear 2-14 days after exposure to the virus.
---
COVID Vaccination Forms
PHRC Downloads
The HSC COVID-19 Q&A is now in operation. Please submit questions to This email address is being protected from spambots. You need JavaScript enabled to view it.. The answers will be posted on this website. Click on the tab labeled Hot Springs County COVID-19 Q&A. The questions will be answered by our CHO, Dr. Vernon Miller MD and our local healthcare providers.
---
More Wyoming related COVID-19 information can be found:
Wyoming Information Sharing Platform (WISP)
---
BACK TO COVID-19 INFORMATION PAGE