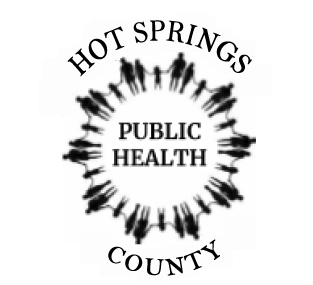 HSC Covid-19 Incident Management Team Situation Report May 19, 2020 at 4:30pm
Please note: Wyoming state numbers will be current in our morning reports. Any changes in our Hot Springs County numbers will appear in our afternoon reports.
Important notice: Today's Wyoming total death number changed from eight (8) to ten (10). This was due to the addition of two Wyoming residents who died of Covid 19 related illness while in Colorado. An adult male in March and an adult female in late April.
It is believed one (1) of the three (3) active cases here in Hot Springs Co. is connected to the previously announced cases in Washakie County. The other two here are considered community spread. The contact tracing for our 3 positive cases is winding down. If you have not been contacted, you are not considered a direct contact to those individuals.
Since Monday, 5/18:
There have been 3 Covid 19 tests run in Hot Springs County (total tests since pandemic began, 78)
Positive tests 3 (total 5)
Negative tests 3 (total 57)
Pending results 16
Individuals asked to isolate at home 3 (total 106)
Wyoming Department of Health and Hot Springs County Public Health continue today, utilizing contact tracing to conduct the investigation into anyone who may have had direct contact with the positive individuals. You will be contacted if you fall within that category. Please refer to this page for updates.
Wyoming laboratory confirmed cases are 577 and there have been ten (10) COVID-19 related deaths in Wyoming. Please note that any discrepancies you may see between Wyoming Department of Health and Hot Springs County numbers is due to the timing of the posts.
We will continue to post twice daily, m-f, and once daily on weekends, until this current situation appears to level off.
Continue to be careful in all your activities. Do not let down your guard. Covid-19 is not gone. Please...continue working hard to protect yourself and others.
If you are having COVID-19 like symptoms and are uninsured, COVID-19 testing and the office visit costs will be covered under the Federal Cares Act. Please call your healthcare provider before arriving at the clinic. According to the CDC a wide range of COVID-19 symptoms include: fever, cough, shortness of breath, chills, repeated shaking with chills, muscle pain, headache, sore throat, new loss of taste or smell. These symptoms range from mild symptoms to severe illness. These symptoms may appear 2-14 days after exposure to the virus.
The HSC COVID-19 Q&A is now in operation. Please submit questions to This email address is being protected from spambots. You need JavaScript enabled to view it.. The answers will be posted on this website. Click on the tab labeled Hot Springs County COVID-19 Q&A. The questions will be answered by our CHO, Dr. Vernon Miller MD and our local healthcare providers.
---
More Wyoming related COVID-19 information can be found:
Wyoming Information Sharing Platform (WISP)
---
---
BACK TO COVID-19 INFORMATION PAGE